Upcoming Events: Christian Sandvig & Karrie Karahalios (7/22); Democratizing Ideologies & Inequality Regimes in Digital Domains
July 9, 2014
Upcoming Events / Digital Media
Remember to load images if you have trouble seeing parts of this email. Or click here to view the web version of this newsletter.

berkman luncheon series
Tuesday, July 22, 12:30pm ET, Berkman Center for Internet & Society, 23 Everett St, 2nd Floor. This event will be webcast live.
Topic To Be Announced
Christian Sandvig is an Associate Professor in Communication Studies and at the School of Information at the University of Michigan, Ann Arbor where he is a researcher specializing in the development of Internet infrastructure and public policy. Karrie Karahalios is an associate professor in computer science at the University of Illinois where she heads the Social Spaces Group. RSVP Required. more information on our website>
berkman luncheon series
Tuesday, July 29, 12:30pm ET, Berkman Center for Internet & Society, 23 Everett St, 2nd Floor. This event will be webcast live.
Internet studies tends to conceptualize groups as collectivities anchored by shared ideas, interests, and information. Sociologists understand groups as also anchored by identity, social location, and power relationships. It's a tension between groups of affiliation versus ascription. The difference is meaningful for how we understand inequality across digital domains. How can we theoretically and methodologically understand both concepts of group in social media generally and specifically in a case study of informal learning spaces on Facebook and Twitter?
Tressie McMillan Cottom is completing her PhD in the Sociology Department at Emory University in Atlanta, GA. As a stratification scholar, Tressie considers what inequality means both experientially and empirically when corporations are people, supranational corporations like Facebook and Twitter shape the public square, and education is increasingly privatized. Her research primarily mines organizational arrangements and structural processes to better understand inequality across rapidly changing social domains. Her current work examines for-profit college credentials and inequality. She also has a developing research agenda that examines the political economy of emerging "new" media organizations. RSVP Required. more information on our website>
video/audio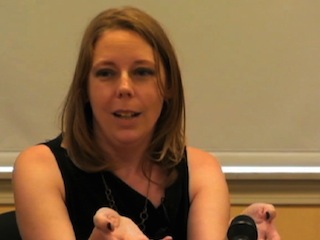 The history of the American red light district is quite brief –- from railroad signal lights to hotel bathroom selfies -– and clouded in myth. Soon it may be lost. In this talk, Melissa Gira Grant -- freelance journalist and author of "Playing the Whore: The Work of Sex Work" (Verso, 2014) -- reconsiders how communication technologies shape sex-for-sale, proposes that sex work has merged with the network, and discusses what we can learn from how sex workers have remained a step ahead. video/audio on our website>
Other Events of Note
Local, national, international, and online events that may be of interest to the Berkman community:
7/18-20: HOPE X (New York City)
You are receiving this email because you subscribed to the Berkman Center's Weekly Events Newsletter. Sign up to receive this newsletter if this email was forwarded to you. To manage your subscription preferences, please click here.
Connect & get involved: Jobs, internships, and more
See our events calendar if you're curious about future luncheons, discussions, lectures, and conferences not listed in this email. Our events are free and open to the public, unless otherwise noted.
The Berkman Center for Internet & Society at Harvard University was founded to explore cyberspace, share in its study, and help pioneer its development. For more information, visit http://cyber.harvard.edu.
Last updated
July 9, 2014