Transparency and Freedom of Information in the Digital Age
Thursday, November 17, 2016
1:00 pm - 6:30 pm
Harvard Law School, Wasserstein Hall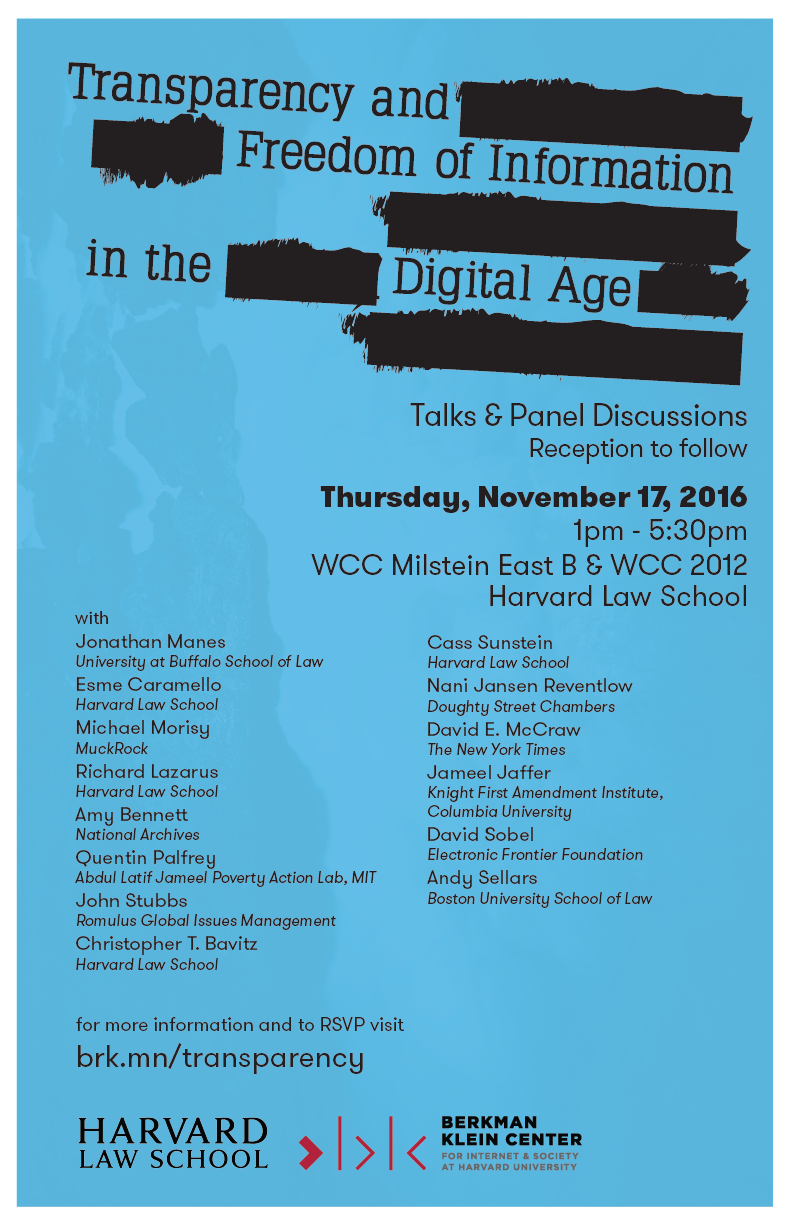 Read coverage of this event in Harvard Law Today
The Internet has transformed the government accountability landscape in many respects. Government actors have long been subject to open government laws and requirements that they consider public input when issuing regulations. But, the democratizing impact of networked communications technologies has allowed more citizens to engage more directly than ever before with federal, state, and local officials.
Some of these engagements take place through authorized channels, including via submission of freedom of information requests and filing of administrative comments. Others take place through more radical, unauthorized transparency interventions.
Journalists, civil liberties advocates, and others seeking to study government and hold it accountable regularly rely on information obtained via freedom of information requests, as well as leaks or hacks, to support their activities. This kind of information can be crucial to informed debate on complex issues, including national security and international affairs. But, easy access to tools that facilitate government transparency makes it harder to distinguish the appropriate role for journalists or activists from the role of everyday citizens. And, those seeking to use information obtained via unlawful means may face normative, ethical, and perhaps even legal dilemmas about the limitations on such use.
This symposium seeks to examine the present state of play with respect to transparency and freedom of information. It will incorporate short sets of remarks and "interventions" throughout the program offering perspectives on the current landscape. And, there will be two panel discussions. The first will offer a "view from the inside," considering how government actors operate in an atmosphere of increased transparency and citizen engagement. The second will offer a "view from the outside," as those interested in promoting transparency and accountability consider the ways in which the Internet has impacted their work.
This event is presented by Harvard Law School and by the Berkman Klein Center for Internet & Society at Harvard University, with generous support from HLS alumnus Mitch Julis.
Itinerary
1:00p - 1:05p
Welcome and Introduction
WCC Milstein East B
1:05p - 2:00p
Opening Interventions
WCC Milstein East B
Speakers:
Jonathan Manes (University of Buffalo School of Law)

Esme Caramello (Harvard Law School)

Michael Morisy (MuckRock)

2:05p - 3:20p
Panel #1 -- "View from the Inside"
WCC Milstein East B
Panelists:
Richard Lazarus (Harvard Law School)
Amy Bennett (National Archives)
Quentin Palfrey (Abdul Latif Jameel Poverty Action Lab, MIT)
John Stubbs (Romulus Global Issues Management)

Moderated By:
Christopher T. Bavitz (Harvard Law School)
3:20p - 3:30p
BREAK
3:30p - 4:00p
Output Transparency vs. Input Transparency (Video Presentation)
WCC Room 2012
Speaker:
Cass Sunstein (Harvard Law School)
4:05p - 5:20p
Panel #2 -- "View from the Outside"
WCC Room 2012
Panelists:
Nani Jansen Reventlow (Doughty Street Chambers)
David E. McCraw (The New York Times)
Jameel Jaffer (Knight First Amendment Institute, Columbia University)
David Sobel (Electronic Frontier Foundation)

Moderated By:
Andy Sellars (Boston University School of Law)
5:20p - 5:30p
Conclusion and Acknowledgments
WCC Milstein East B
5:30p - 6:30p
Cocktail Reception
WCC HLS Pub
Stay in touch
Subscribe to our email list for the latest news, information, and commentary from the Berkman Klein Center and our community.
Subscribe